George T. Wilkinson, Inc. is hiring! We're looking for qualified service technicians to join an already talented team. Our organization is growing and we are looking for technicians who will assist with troubleshooting commercial/industrial burners, boilers, pumps, control systems and other items related to the boiler room.
Some of the duties and responsibilities for this position include:
Ability to troubleshoot and repair high efficiency condensing boilers as well as cast iron or firetube gas and oil boilers

Test, diagnose and repair problems in the system and propose relevant solutions

Service electric and pneumatic control systems

Maintain and clean oil/gas burner systems

Applicants need to have an oil burner license and an electrical background is a plus.

"Technical abilities are very important to us when hiring a candidate, but communication skills and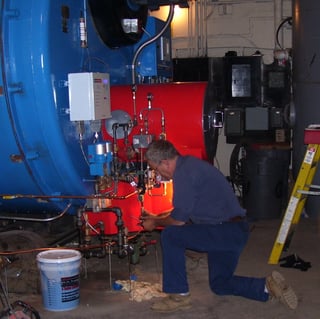 attitude are equally important. Some of the traits that we look for in a candidate are communicators, thinkers, problem solvers, innovators and leaders. We are willing to train certain skills, but we are not able to train positive attitudes." Peter DeGennaro, Vice President, Finance & Administration
John Colborne, Service Advisor/Senior Technician has been with Wilkinson since 1989. He offers the following advice to potential candidates: "The trade has seen so many changes over the short number of years I have been doing it. When coming into the trade, a technician should want to learn and retain everything they can, because I can promise they will need this knowledge some 20 degree night when they have to get the heat on."
Stephen Mowles, Service Advisor/Senior Technician, is also a long-time Wilkinson employee, joining the company in 1988. He provides some information to people starting out in this field: "If you have some mechanical ability, becoming a service technician can be a great career. Show interest, have a curious mind, be inquisitive and genuine and you will always have food on your table and a roof over your head."
Chris Celino joined Wilkinson in 1990. As a Senior Installation Technician, he also has a few tips: "Working in any of the mechanical trades can be rewarding mentally and financially. On the job, show interest and motivation. Working in the boiler room, you can get a hands on education that you can't get in any school."
If you're interested in applying for the Service Technician position, please review the complete job description here:
Service Technician Job Description
To apply contact:
Peter DeGennaro
pdegennaro@gtwilkinson.com
(800) 777 - 1629
www.gtwilkinson.com

Now in our 66th year, the third generation of the Wilkinson family continues to provide the highest standards of installation, service and maintenance for all your boiler needs. In addition to offering the absolute latest in heating technology and efficiency, we also have New England's largest fleet of mobile boilers.