---
Get to know Stephen Mowles.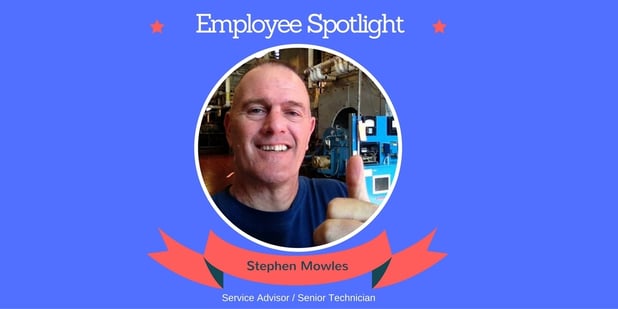 ---
What is your position? Service Advisor/Senior Technician
How long have you been with the company? I'm into my 29th year with The Wilkinson Companies. I started in August of 1988, two months before I got married.
What do you like about working at Wilkinson? I like the fact that my work environments are always changing. This is constantly providing new challenges and obstacles to overcome. It's always rewarding to be able to help out a customer that you've developed a relationship with over many years, knowing that they have trusted and relied on you to help them out of difficult situations. Being out and about you really get to meet some great people, and some real characters!
What's been your most memorable experience at Wilkinson? After so many years it's more a collection of memories as opposed to any one or two things. My initial project in 1988 was working with company founder George Wilkinson, building our company's first mobile boiler. This gave me an inkling of what we were about as a company.
I was then partnered with, now installation manager, Dave Roche, and we handled burner installs and retrofits from beginning to end. You really learn so much when you're involved with all aspects of the trade from A to Z. I transitioned to the service department where I had the good fortune of training under Warren Gartner and Walter Wells who were two of the best in the business. Working alongside, now service manager, John Sieminski and fellow technician John Colborne, has been an invaluable asset as well.
We all worked together, as a unit, and that enabled our department to d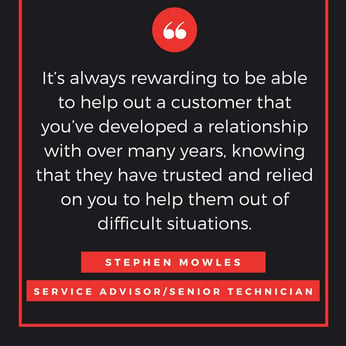 evelop a pretty good reputation (if I do say so myself!). Working for an established, well-run company with people of character, sharing knowledge and having common experiences is what triggers my fondest memories and has me looking forward to the years ahead.
What do you do in your free time? I have always enjoyed coaching my two sons and daughter in youth sports and squeezing in a round of golf here and there. Now I enjoy driving around the country visiting my kids (and going to their college's football games) in South Carolina, North Carolina and Oklahoma.
What advice would you give to someone starting out in this field? If you have some mechanical ability, becoming a service technician can be a great career. Show interest, have a curious mind, be inquisitive and genuine and you will always have food on your table and a roof over your head.
---
---