Since 1951, The Wilkinson Companies has taken pride in our exceptional service. We strive to provide the highest standards of installation, service and maintenance for all your boiler room needs.
Our service department has trained experts that are ready to install and maintain a variety of systems, whether it's existing equipment or the latest in high-efficiency heating systems.
In 2017, John Sieminski was promoted from Service Operations Manager to Vice President of Service Operations. John has been with Wilkinson since 1986 and works tirelessly to ensure customers receive the best possible service and maintenance. With John as Vice President, the service department continues to focus on their commitment to excellence in service and maintenance operations.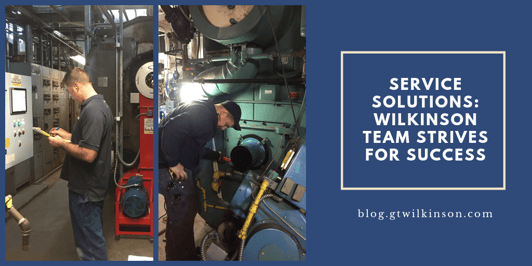 Learn more about some of our solutions, from maintenance plans to emergency service:
Keeping on top of maintenance each year ensures that your boiler is running properly and safely. When your boiler is running efficiently, it also means you are saving money and have less emissions. An annual boiler overhaul can help you can avoid emergency shut downs. Wilkinson's maintenance programs mean less downtime for your facility, efficient operation of your boiler and cost reduction for your facility.
If you decide you need preventive maintenance for your boiler, a system shutdown provides the opportunity for parts to be examined and repaired, if necessary. To ensure your system is shutdown properly, you need a qualified service technician to conduct the shutdown procedure. Our technicians can help you plan and organize well in advance.
We are also available to assist with contingency planning. Our associates will assist you in planning under normal operations, so your facility will be ready in case of emergency. We perform boiler room audits and can install the proper piping and connections that will keep you running.
Heating issues don't happen on a convenient schedule, so we offer 24/7 emergency service. You can call any time and speak directly with a representative right here in Massachusetts. A technician will be ready to come out and solve your problem. And if you need a rental boiler, our fleet of mobile boilers will keep your facility running with minimal downtime. Our emergency hotline is available at 800.777.1629.
From emergency boiler service to outstanding maintenance, we are always ready to take your call and take care of your problem.