We've all heard the saying: nothing lasts forever. And it's a fact when it comes to the equipment in your boiler room.
Facility managers and business owners often face the tough decision of repairing or replacing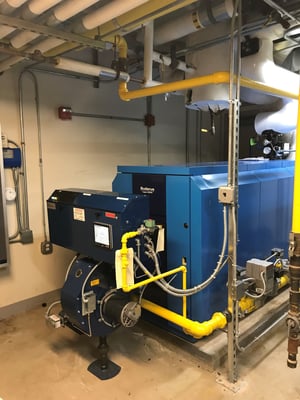 their boiler. Replacing a boiler can be an expensive process, depending on size requirements and the number of boilers needed to meet the demand of your facility. Our recommendation is to always have a solid maintenance program to prolong the life of a boiler.
Repairing a boiler can save your facility money and it's a common choice. No matter how well your boiler has been maintained, there will come a time when repairs are needed. Repairs can be necessary to ensure that the equipment is operating as efficiently as possible. Over time, wear and tear can cause your boiler to deteriorate. Maintaining the boiler is crucial because as the components of that boiler begin to fail, the more expensive the repair cost will become.
If you find that maintenance and repairs become a common occurrence, it is a clear indicator that it is time for a boiler replacement. Eventually repairs become a Band-Aid to bigger issues that can no longer be ignored.
A boiler replacement project can be expensive but it can also be cost effective in the long run when you no longer need to repair the same parts over and over. Replacing your boiler leads to lower maintenance and repair costs as well as increased efficiencies.
Having the proper diagnosis of your existing equipment as well as an appropriate maintenance program will help prolong the life expectancy of your boiler. To learn more about how to properly maintain your boiler, check out 3 Questions to Jump-Start Your Boiler Maintenance Plans.