Your boiler may need a break this summer, but what if your facility still needs steam?
Many facilities need steam even after they've shut down their boiler for the season. For example, a college needs to continue regular operations for summer students, or a pharmaceutical company or hospital needs steam for sterilization in the lab or operating room.
What about facilities that require corrective or preventive boiler maintenance? Whatever the reason, Wilkinson Mobile Boilers has plenty of steam boilers ready to deliver to you.
Our mobile boilers operate entirely from the trailer. Each portable boiler is self-contained with all the essential parts for operation. Using a mobile boiler ensures that your operations will run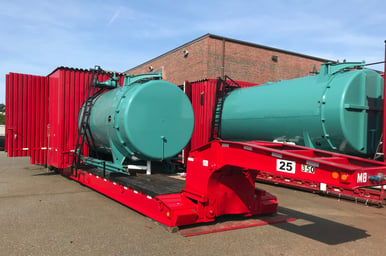 consistently throughout your system maintenance or shutdown.
In order for a boiler to maintain peak performance, it may be necessary to schedule a shutdown for cleaning and inspection purposes. A system shutdown provides the opportunity for parts to be examined and repaired, if necessary.
To ensure your system is shutdown properly, you need a qualified service technician to conduct the shutdown procedure. Learn more from our blog: Does Your Boiler Need a Break?
A mobile boiler is useful when you're planning a large-scale maintenance project for your boiler. If you need your system to run 24/7 and your facility does not have redundancy, you will need a mobile boiler during the maintenance period.
We work hard to keep our mobile units in first-rate condition. Dave Roche, General Manager of Wilkinson Mobile Boilers, explains: "We built a mobile boiler test station here at our shop. We now have the ability to test fire every mobile boiler before it goes out and to set it up for the site's specific conditions. We have a full staff of licensed and trained installation technicians who are constantly working on and upgrading our mobile boiler fleet to ensure they are safe and reliable. We strive to ensure that each mobile boiler rental goes smoothly from start to finish, while maintaining competitive pricing."
Looking for more information about our mobile boilers? Here are 5 Things about our Mobile Boilers You May Not Know.
If you're in need of a rental boiler this summer, contact Wilkinson Mobile Boilers at 800.777.1629