---
It's that time of year again… time to think about a system shutdown for your cast iron, fire tube or water tube boiler. Maybe your system requires corrective or preventive maintenance, or perhaps you take your system offline for the summer. Either way, we can offer solutions that keep your boiler at peak efficiencies.
---
Scheduled shutdowns are typically done by a company or an organization when they know they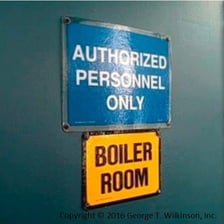 need repairs or upgrades on existing equipment. In order for a boiler to maintain peak performance, it may be necessary to schedule a shutdown for cleaning and inspection purposes. A system shutdown provides the opportunity for parts to be examined and repaired, if necessary. This process is something that needs to be thoroughly planned and organized well in advance.
To ensure your system is shutdown properly, you need a qualified service technician to conduct the shutdown procedure.
What needs to be done to prepare for boiler shutdown?
Ensure boiler has been OFF for a minimum of 24 hours

Ensure boiler system has been locked out and tagged out

Secure pumps (if hydronic system)

Steam header is closed (if steam system)
What are some of the things a technician does during a shutdown?
Brush and vacuum the firesides

Clean watersides, including man and hand holes

Remove and clean burner diffuser

Change or clean oil nozzles (oil system)

Change electrode(s)

Tune burner throughout firing range
If your boiler will not be used for an extended period of time, the equipment needs to be protected and maintained while out of service. However, if you need your system to run 24/7 and your facility does not have redundancy, you will need a mobile boiler during the maintenance period. With the largest fleet of mobile boilers in New England, Wilkinson can assist in all your mobile boiler needs. Our mobile boilers operate entirely from the trailer. Each portable boiler is self-contained with all the essential parts for operation. Using a mobile boiler ensures that your operations will run consistently throughout your system maintenance. Boiler industry professionals know that any unplanned downtime can drastically affect the operations of your facility. But when your system is properly maintained, unplanned and emergency shutdowns should be minimal.
---
While a shutdown may be required to keep your boiler running properly, annual maintenance will increase the efficiency of your boiler and save your facility money in the long run. To find out how The Wilkinson Companies can help increase the service life of your boiler, contact us today.
---
The Wilkinson Companies
405 VFW Drive
Rockland, MA 02370
(800) 777-1629
See what's happening on our social media sites:
Facebook Twitter Instagram LinkedIn The Heat Exchange