Winter is here and 2018 is off to an extremely cold start! Your facility's boiler is working hard, but what happens if it stops working?
Emergencies can occur and in this weather, you need to be prepared. When your boiler is down, Wilkinson Mobile Boilers, Inc., can get you back up and running. We are equipped to provide emergency steam and/or hot water as quickly as possible, regardless of building size or pressure. Our rental boilers ensure minimal downtime for your facility.
We are New England's #1 mobile boiler rental company and we are growing! Wilkinson Mobile Boilers is expanding our service to cover commercial customers across the Northeast, including:
New York

Pennsylvania

New Jersey

Maryland

Delaware

And beyond!
Our temporary boilers make it easy to keep your facility heated. Each mobile boiler room has completely self-contained units with all essential elements for operation. The entire plant operates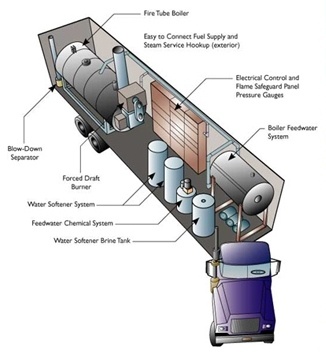 from the trailer and no other building is required. All equipment and operators are fully protected from the elements.
We have a wide range of state-of-the-art, totally self-contained high- and low-pressure steam boilers as well as a fleet of domestic hot water trailers. Most trailers utilize the high efficiency Autoflame Combustion Management System that will ensure customer fuel savings as well as minimal carbon emissions.
Our emergency hotline is available 24/7 at 800.777.1629.
Learn more: http://www.gtwilkinson.com/mobile-boilers/