---
If you're thinking about ways to save money and reduce fuel consumption, Wilkinson can help with a control system from Autoflame.
George T. Wilkinson is the exclusive representative of the Autoflame Combustion Management System for MA, RI and CT. Back in the early 1980s, Autoflame invented the very first micro modulation linkageless combustion control system. This system has revolutionized the burner industry throughout the world. In addition to the linkageless system, Autoflame also offers exhaust gas analysis with multi-parameter trim, data monitoring, water level control, flue gas recirculation management and many other features.
---
Since that first system in the 80s, Autoflame has been working hard to produce products that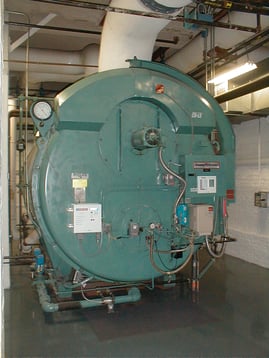 reduce boiler plant costs, while making it cleaner, safer and more reliable. When you automate control of your boiler plant with Autoflame touchscreen controls and servomotors, you could recoup your investment in as little as 1-2 years just in fuel savings.
"The Autoflame installation has helped us save many thousands of dollars by maximizing the use of fuel and extending the life of the boilers. We now have excellent tracking of the combustion gases which are trended and saved in a computer database. We were able to tie the system in to our existing building management system due to Wilkinson's expertise with the system. This project was a winner for MassArt." Howard Larosee, Executive Director Facilities Planning, MassArt
So what's new at Autoflame? Check out the Mk8 MM Controller and the Mini Mk8 Controller. The MM line of controllers are designed to manager basic burner operation (flame safeguard, sequencing, valve proving, etc.) and advanced controls (TDS/blowdown, draft control and more).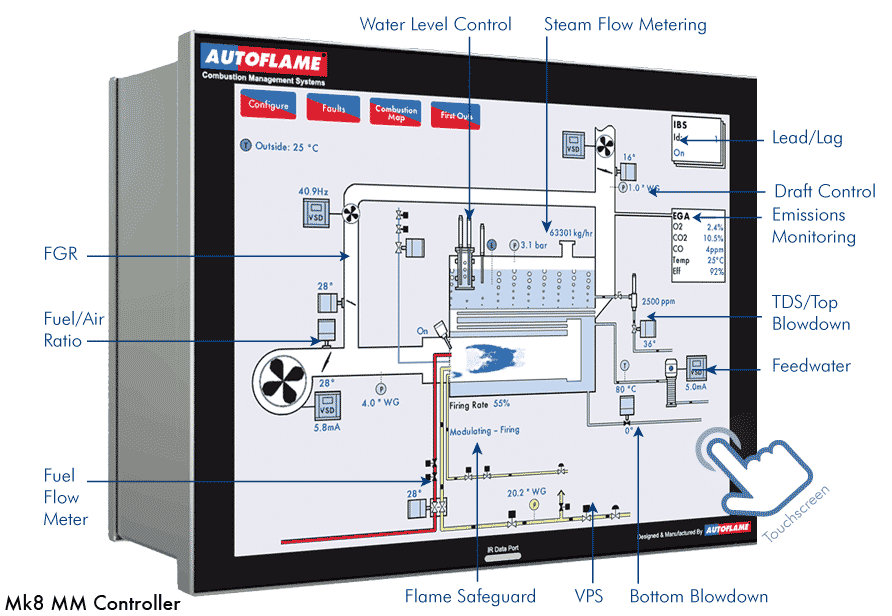 Mk8 features:
Manage virtually all boiler processes from a single 12.1" multi-touch screen interface without any added modules.

Ideal for steam and water boilers (watertube or firetube), kilns and steam generators. Designed for oil, natural gas or both fuels.

Linkageless servomotor system and automated flame safeguard create conditions for unmanned boilerhouse.

Modbus connectivity allows for remote monitoring and management.
Mini Mk8 features:
Able to reduce fuel consumption by 5-7% over traditional linkage systems

Capable of reducing CO2 emissions by 10%

Repeatable, accurate positioning system reduces maintenance costs

Controls fuel, VSD, scheduling, sequencing and other automatic settings

Available in a control panel package

Direct replacement for Mini MK7
Other Autoflame products include Exhaust Gas Analyzers (EGA) and Data Transfer Interface (DTI).
EGA: Monitor flue emissions with a system that totals up to 6 gases. These are available in conformance to EPA standards at a fraction of the price of alternatives, while enabling Autoflame's unique trim function.
DTI: Monitor up to 10 boilers from a PC or BMS system, or using its on-screen display.
---
For more information about saving your facility money with Autoflame, contact The Wilkinson Companies.
Watch a Clip of our visit to MassArt