The Wilkinson Companies has seen steady growth over the past 6 years.
In 2013, we highlighted the expansion of our facility in a Boiler Room Insider video. Watch here:
Back then we extended our warehouse and added a training room to our headquarters. As technology evolves in the future, we have the space to fully train our technicians on the most innovative and efficient equipment in the industry.
In addition, we stocked our spacious warehouse with extensive inventory that we've been able to use on projects across the Northeast. While the warehouse is spacious, it is getting tighter as we're also in the process of constructing a prefabrication area for our installers and technicians. While it's great to be able to perform work on the job site, there are some extenuating circumstances which allow us to use the comfort of our home base.
In 2019, we're experiencing even more positive changes. We've added to our staff in several departments, including Service, Purchasing and our New Construction Division. To accommodate this growth, we've added 4 new offices with plans to add four more.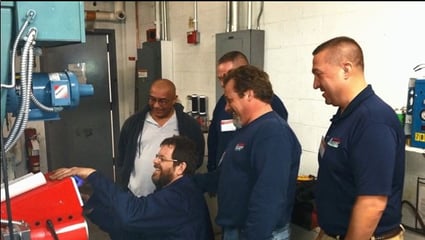 Our warehouse now houses additional inventory that is available for sale. Our ever-changing In Stock Inventory Sales page features our latest list of boilers for sale.
Last year Wilkinson's Mobile Boiler division expanded our service to businesses across the Northeast. In addition to New England, we are now bringing temporary heat and hot water to New York, Pennsylvania, New Jersey, Maryland, Delaware and beyond.
UltraFiltronics, our pure water division, is also growing. We've added new associates to our team of Superior Service Specialists who are ready to bring our customized solutions to facilities in the biotech, pharmaceutical, hospital and higher education industries across New England. It's very exciting!
"It's incredible to see what's been going on. We are extremely fortunate to experience this growth and I attribute this to excellent customers and a first class group of Wilkinson associates in and out of the field. As we continue to grow, we remain committed to the highest standards in installation, service, maintenance and safety. We still have a family-business feel, providing exceptional service to our customers and 24/7 availability," Geoff Wilkinson, Jr., President, The Wilkinson Companies