How often do you think about your facility's boiler? Do you ever worry about lack of heat? What about lack of domestic hot water?
As temperatures drop, the reliability of your boiler room should be on your mind. When you let the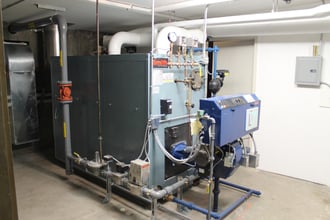 care and maintenance of your boiler slip, repair costs can add up very quickly, never mind actual dangerous downtime.
Making boiler maintenance a priority ensures that the boiler will run properly and safely. Not only will regular maintenance save money for your facility, but the boiler will produce less emissions.
We are the service maintenance experts in the Northeast, regardless of the type of boiler you have. Our technicians are fully trained in servicing all cast iron, condensing, firetube and watertube boilers. When you schedule a maintenance appointment, our service technicians will examine all aspects of your boiler. Any issues will be dealt with quickly and capably. Once the cleaning is complete, we will test and tune your boiler and make sure it is running at peak efficiency.
As experts in the industry, we have a few recommendations regarding maintenance:
Oil-fired systems should be maintained more frequently than gas-fired systems.

A properly calibrated combustion analyzer should be used on every boiler at minimum, once a year.

Ideally, you should have a redundant system. In the event one fails, you will have another boiler that picks up and carries the load.
An annual boiler overhaul can help you can avoid emergency shut downs. Wilkinson's maintenance programs mean less downtime for your facility, efficient operation of your boiler and cost reduction for your facility.
Start the New Year off right and think more about boiler maintenance. Less maintenance means less life expectancy for your boiler… and you don't want to get caught in the cold!