We are excited to share this history of The Wilkinson Companies, written by our Founder George T. Wilkinson on April 21, 2001. George's personal pride and integrity was apparent in everything he did to build his business and guided us to where we are today, 70 years after he started George T. Wilkinson, Inc. Although George passed away in January 2014, his legacy lives on. Today, the third generation of the Wilkinson family, along with our dedicated associates and experts technicians, work together to carry on George's core values and commitment to our customers.
---
Written by George T. Wilkinson, Founder
April 21, 2001
1951 was an eventful year in that many new beginnings took place. First of all my wife and I were expecting our second child very soon. The day this new baby was born and the doctor informed me that all was well with mother and child, I cleaned out my desk at my job and drove out of Boston to East Milton to a Ford dealer and traded my car in for a pickup truck, thus committing myself to start my own business.
Incidentally, this new baby born April 24, 1951 was Geoffrey C. Wilkinson, now President of the company.
The total assets of the fledging company consisted of one pickup truck, some hand tools, and one employee - me - and no capital.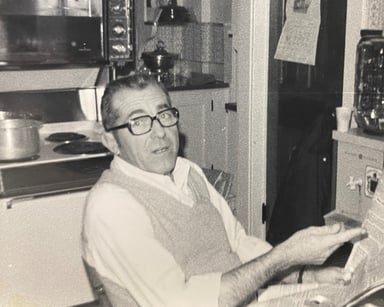 That same evening I received a phone call from an old friend, whom I had not spoken to for years, and he asked me if I was still installing heavy oil burners. I informed him that as of that very day I started a business of my own. His reply... Great! Because he, being in the retail oil business, had a customer that wanted to convert a boiler from coal to heavy oil.
I surveyed the job the next day and presented a proposal, which they accepted and paid 50 percent upon signing. Now, I had the missing asset - capital - to proceed. I did the entire job in only 8 hours outside labor. Thus realizing an exceptional profit, some of which was used to buy power tools and other much needed equipment.
Over the next 25 years a gradual increase of personnel and customers occurred as the business grew at a steady pace. In 1976 Geoffrey joined the company after graduating from Mass. Maritime Academy and spending some time time as a Merchant Mariner on oil tankers for Mobil Oil Corporation.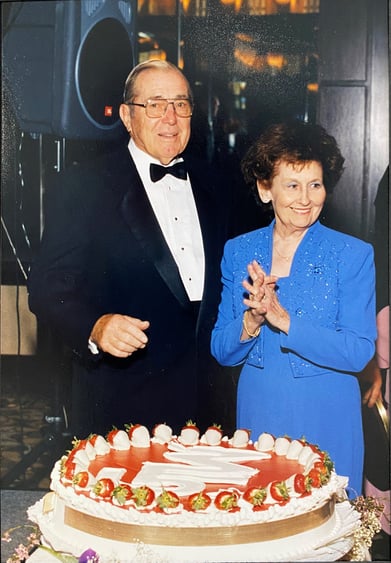 Mr. George T. Wilkinson and Mrs. Margaret Wilkinson getting ready to cut the cake at the company's 50th anniversary celebration back in 2001.

With the combination of Geoffrey and myself over the next 10 years I was able to slowly release the reins to Geoffrey who worked industriously throughout the years to institute new ideas, add personnel, customers and an atmosphere of teamwork throughout George T. Wilkinson Inc. and Wilkinson Mobile Boilers, Inc.
Today, as we celebrate the 50th Anniversary of George T. Wilkinson, Inc., I look back and think of all the hard work and sacrifice it took from both of us. As the third generation of Wilkinsons, Geoffrey Jr., joins the company I have an overwhelming feeling of pride in what that Ford pickup truck and some determination has started and can only imagine the future success to come.