---
Did you know that GT Wilkinson, Inc. is the exclusive representative of Power Flame for eastern Massachusetts, New Hampshire and Maine?
Power Flame Inc. is an innovative and forward thinking force in the commercial/industrial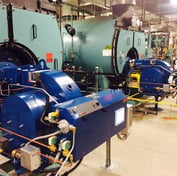 combustion equipment industry. They manufacture gas, oil, combination gas/oil, low NOx burners and combustion control systems. Designed for Commercial, Industrial and Process Applications, each one of their products share environmentally conscious designs and are crafted from quality materials by their expert staff of dedicated professionals. Recently acquired by Astec Industries, Power Flame represents a significant percentage of the United States market share.
---
Power Flame offers a complete line of burner systems and accessories with capabilities that range from light commercial use to heavy industrial operations. Wilkinson can properly size any existing fire tube, water tube or cast iron boiler with a new burner.
Installations of all power burners are accompanied by the high-efficiency, linkageless Autoflame™ Combustion Management System unless otherwise specified. Burner options include the following:
Low NOx

Oil No. 2, No. 4, No. 6

Gas, Natural and Propane

Air, Pressure, Steam Atomized

Combination Gas/Oil

Register Type Forced Draft
---
Wilkinson's highly qualified service technicians are available for maintenance and can perform Power Flame burner troubleshooting, regardless of control system.
Is a Power Flame Burner from Wilkinson Right For You?
Learn more about The Wilkinson Companies and Power Flame products.
---