Welcome to our brand new series, The Heat Exchange Expert Interview. Our first spotlight is on Steve Kemp, Director at Autoflame Engineering.
I'd like to personally thank Steve Kemp for his candidness in the interview. We at GTW, Inc. hold Steve and his colleagues at Autoflame in very high regard. Autoflame been on the cutting edge of high efficiency burner technology longer than anyone. In addition to fuel savings and carbon reduction, they provide the ability to monitor emissions at plants of all sizes regardless of fuel. Thank you to Steve and Eloise Kemp. -- Geoff Wilkinson, Jr.
How did the relationship between Autoflame and Wilkinson begin?
We met in the early 90s at a Webster Burner sales meeting in Winfield, KS. Geoff Sr. immediately saw the benefits of using the Autoflame system as a retrofit onto existing burners as well as new burners.

How many employees did you have at Autoflame when you started? How many do you have now?
Since I joined the company in 1986, we've gone from 25 employees to 60. When Autoflame was set up in 1972, we had 4 employees functioning as a burner servicing team. Now, we have over 40 Tech Centres worldwide working, some for over 25 years, as part of the Autoflame Tech Centre Network. Alongside a central distribution, technical support and training facility in Kansas, USA.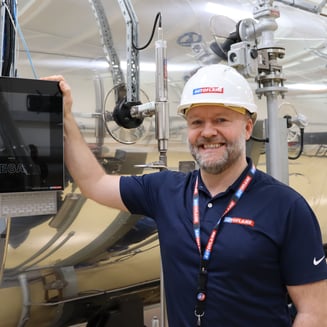 Steve Kemp, Director, Autoflame Engineering

What do you see for the future, not only with Autoflame but for the industry?
Much more awareness on maximising combustion efficiency as hydrocarbon fuels become less of an energy source. Emissions will continue to be the driving force and the application of systems will become environmentally led by emissions of NOx.

What are your thoughts on the big green movement with electric boilers?
The green movement is important for us to be prioritising and working towards, both in our personal lives and within the industry. A large hurdle that we've found to this movement is that unfortunately the solution isn't 'one-fits-all' across our industry. Realistically, it's a sliding scale to reach our reduced carbon goals. Goals need to be realistically achievable, and the latest technologies need to be utilised to kick start emissions and fuel reduction. By aiding industrial applications where green technologies don't yet meet requirements, it starts the change needed to be responsible for our carbon emissions and fuel usage. Most importantly, these technologies need to be quickly and easily implemented onsite without the need for drastic infrastructure change.
Governments around the world have joined the Paris Climate Accord on reducing greenhouse gas emissions and most have set zero carbon targets by 2050 or reduced carbon emissions by 2030. The focus on meeting these targets is renewable energy.
Realistically, these new projects will take 10 years before they significantly contribute to our growing energy needs. For nuclear power to contribute, the time frame is closer to 20 years and that's if we agree that we can safely implement it. In the same way the British Government has outlawed gas boilers in London by 2025. On the pretence that heat pumps are the solution.
There is no question that heat pumps are an option for new buildings where the structures can be designed accordingly. What has been missed is that most gas fired commercial boilers operate with typically 50% more excess air than what is required to correctly burn the natural gas.
Autoflame have the technology ready to be implemented today, which provides the first step in reducing our carbon emissions now. To reach our shared end goal of next zero, we should be increasing the efficiency of existing plants with tried and tested technology, before we jump to long term goals of zero carbon.

Your daughter and both sons are involved with the company. As Autoflame grows, does it still have that family-business feel?
Absolutely, this is something we are passionate about. Not just generations of various families bringing their expertise to the team, but focusing on supporting new apprenticeships and graduates into the various areas of the business.
Currently we have 3 apprentices working within our Panel Shop team, 3 engineering apprentices in the Autoflame Service & Support Team, and an apprentice specialising in EGAs as part of our production team.
Many members of our production team have been here 20 plus years and have not only witnessed many generations of our controllers, but most importantly they have personally contributed and grown with the company.

How has the worldwide supply shortage affected Autoflame?
Fortunately, being a financially secure business – which has always been a key cornerstone of our operations – allows us to invest in stock. Something we've always done / an approach we've always taken. This policy ensures a buffer against challenges we may come against that affect the supply chain. In this case, in the current climate – this has safeguarded us against any impacts from supply chain shortages.
Now stocking equipment in both the UK and the US at MCS in KS, USA. In the current climate where most manufacturing companies adopted just in time over lean manufacturing – this was never a part of our strategy. This was primarily led by the fact that we manufacture everything in-house, without the need for outsourcing.

Do you see yourself working at Autoflame as long as your father?
Providing I am still massively enjoying the challenge, I have no intention of retiring any time soon.

How many miles a year did you travel pre-Covid?
150,000 air miles. Fortunately, I was able to apply for a special exemption visa from the US embassy in London which allowed me to continue travelling to the US once the borders were re-opened for travel – which was important to us as this is our dominant market.

Tell us a few of your favorite things:
A pint of Draft English Ale. Recovering from Jet lag is my hobby. Being an engineer, I enjoy renovation projects in my house, going on city breaks with my wife and spending time with my two Rhodesian Ridgebacks at home, BBQing whilst drinking a cold beer – rain or shine.