If you're looking to overhaul your boiler room with an energy efficient upgrade, now is the time to start thinking about it.
From a boiler replacement to a burner retrofit, our sales group can provide expert recommendations. You may think that a boiler replacement project is expensive but it will be cost effective in the long run when you no longer need to repair the same parts over and over. Replacing your boiler leads to lower maintenance and repair costs as well as increased efficiencies. Right now, utility companies are offering incentives to assist in the cost of making your boiler room more energy efficient.
---
We've put together a list of boiler room issues that let you know it's most likely time for an upgrade.
Signs it's time to upgrade your condensing boiler:
Continuous lockouts

Specific age (your boiler is more than 20 years old)

Lack of maintenance, including condensate trap neglect

Not operating the boiler system per the building system design

Breeching corrosion

Building operating expectations were altered due to new tenant requirements

Improper initial installation

Water quality that doesn't meet manufacturer requirements
Signs it's time to upgrade your cast iron/firetube/watertube boiler:
Lack of maintenance

Significant thermal stress over time

Improper initial installation

Evidence of burn marks on boiler jackets and/or doors

Lack of safety checks

Lack of chemical treatment
We can perform a free onsite survey and determine the best solution for your facility. We'll look at factors such as price, emissions, efficiency and space constraints, and see what works with your capital budget.
Our areas of expertise include the following:
Project plan & design

Demolition

Asbestos abatement

Burner troubleshooting

Boiler commissioning for peak performance

Mobile boilers

Gas, oil, hydronic and steam piping

Electrical work and upgrades

Piping insulation

Stack fabrication

Chimney construction

Variety of service and maintenance plans
Our Installation team has over 160 combined years of experience at The Wilkinson Companies. We are ready to demolish old and inefficient equipment, rig in new equipment, install new piping systems (any size gas, oil, water or steam) and commission new units.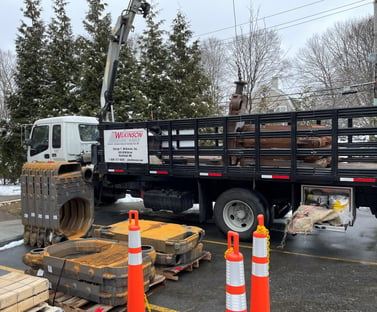 Upon completion, the Wilkinson Service team will service and maintain your units for life. We are trained and fully versed in combustion control systems such as Autoflame, Fireye, Cleaver Brooks, Honeywell, Siemens and more. We're not shy about working on any make of burner and boiler. For condensing boilers, we service and maintain all manufacturers.
A newer boiler model will be more reliable, increase energy efficiency, save you money on fuel and limit emissions. Incentives are available from local natural utilities to upgrade to more energy efficient systems. We have a great understanding of the local incentive programs as well as government tax relief opportunities.
Contact us today to schedule a free onsite survey to determine the best solution for your facility.



New England's Commercial and Industrial Heating Source for 70 Years