When it's time to upgrade the boiler room in your facility, Riello Array condensing boilers offer an efficient solution. Known as "the ultimate in efficiency, redundancy and reliability," technicians at The Wilkinson Companies have been installing Riello boilers locally at customer sites. The Riello Array series is a pre-packaged boiler plant. According to Riello's website, "Each Array boiler utilizes multiple heat exchanger modules, providing high turndown and multiple boiler redundancy in one packaged unit. A single Array boiler provides superior uptime reliability that is only found in larger boiler plants and multi boiler systems."
Last August, The Wilkinson Companies completed a project at Merrimack College in North Andover, MA. Founded in 1947, Merrimack is a private college offering more than 100 career-focused undergraduate, professional and graduate programs.
The campus previously operated on 18 atmospheric boilers, which were no longer effective or efficient. Al Bishop, Wilkinson's Vice President of Sales, worked with Columbia Gas to find a way to save energy and upgrade the equipment in the boiler room.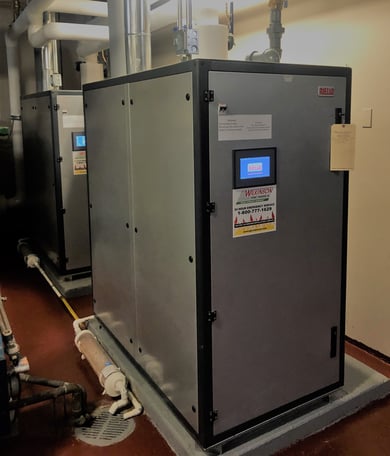 The solution was to install two Riello Array boilers; an Array 3000 (with max input of 3,000,000 btu/hr) and an Array 2000 (with max input of 2,000,000 btu/hr). "The key to this technology is that the Array has individual firing chambers, which provides built-in redundancy. It is excellent technology that provides a lot of peace of mind." – Geoff Wilkinson, Jr., President, The Wilkinson Companies
"After going through one full winter with the new boilers, we've had zero problems. They kept the buildings at a comfortable temperature, despite never having to run at full capacity." - Randy Sideman, Facilities Plumber, Merrimack College
If you think the Riello Array condensing boiler might be right for your facility, please contact a Wilkinson representative at 800.777.1629 or visit http://www.gtwilkinson.com/contact
To learn more about the Riello Array v2 boiler, please visit: https://www.riello.com/north-america/riello4you/riello-array-v2