If you're interested in fuel savings and have a Cleaver Brooks firetube or watertube boiler in your boiler room, a retrofit might be the solution for you.
A Cleaver Brooks retrofit uses a specifically designed air transitional duct to transfer combustion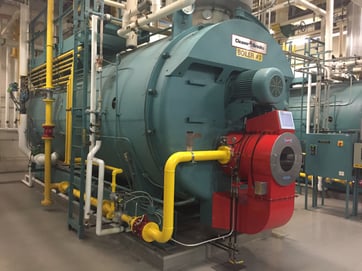 air from the existing blower wheel assembly located inside the boiler door. Turndown ratios are around 8:1 on natural gas with O2 levels less than 3% O2 throughout the firing range. Customers see a very quick and realistic ROI. Many customers see savings of 10%-35% when retrofitting their existing boiler with a Limpsfield burner.
Wilkinson and Limpsfield collaborated on a Cleaver Brooks retrofit at
Millipore Corporation in Bedford, MA. The project focused on installing Limpsfield burners on two well-maintained Cleaver Brooks boilers. Even with boilers that were in good operating condition, Millipore was still able to see substantial savings after the retrofit. You can read the results in Limpsfield's overview of the project.
Another serious way to save money and reduce fuel consumption is to install Autoflame controls. Autoflame's Mk8 MM Controller and the Mini Mk8 controllers are designed to manage basic burner operation (flame safeguard, sequencing, valve proving, etc.) and advanced controls (TDS/blowdown, draft control and more). Wilkinson is the exclusive representative of the Autoflame Combustion Management System for MA, RI and CT.
When you automate control of your boiler plant with Autoflame touchscreen controls and servomotors, you could recoup your investment in as little as 1-2 years just in fuel savings.
Mk8 features:
Manage virtually all boiler processes from a single 12.1" multi-touch screen interface without any added modules.

Ideal for steam and water boilers (watertube or firetube), kilns and steam generators. Designed for oil, natural gas or both fuels.

Linkageless servomotor system and automated flame safeguard create conditions for unmanned boiler plant.

Modbus connectivity allows for remote monitoring and management.
Mini Mk8 features:
Able to reduce fuel consumption by 5-7% over traditional linkage systems

Capable of reducing CO2 emissions by 10%

Repeatable, accurate positioning system reduces maintenance costs

Controls fuel, VSD, scheduling, sequencing and other automatic settings

Available in a control panel package
If you're interested in learning more about a boiler retrofit, contact us today.