We're taking a closer look at some of the piping methods Wilkinson Installation technicians have experience and proficiency in using on the job.
Having the correct piping in your boiler room is vital to properly heating your facility and ensuring your system is working efficiently for years to come. The factors in determining the right piping method for a job depends on the type of media (steam, gas, water, etc.) as well as taking the temperature and pressure into consideration.
Wilkinson Installation technicians are proficient in the piping methods listed below.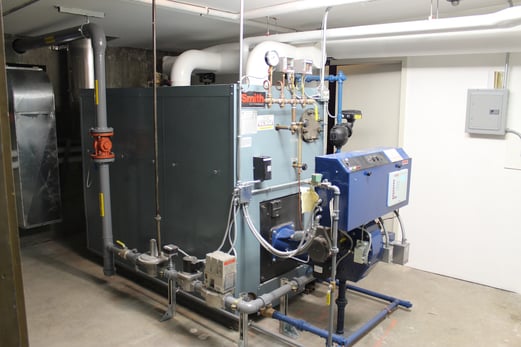 Piping Styles, Uses and Advantages:
Threaded: Threaded piping is well known and commonly used. It has multiple uses, works on various systems and is easily repaired.
Welded: Welded piping is a method that joins two pipes together. It is good for steam, high pressure gas and multiple other uses. It comes in handy when other methods can't be used. Another advantage is that it can be easily repaired.
ProPress: ProPress is used on copper pipes and is a good leak-proof method. The advantage in using ProPress piping is that it doesn't need to be soldered. This type of piping has a flameless copper joining system with a mechanical joint that can be joined without an open flame.
MegaPress: MegaPress is a cold press system used on low pressure steam, hydronic systems and gas. This piping method is a quick and easy way to get a job done.
UV Stabilized Polypropylene/Nupi Niron: This style of piping works well in a hazardous environment and is good for hydronic systems. It's an innovative method with many advantages. Nupi Niron is lighter than other piping, easier to work with, affordable and accepted in any building, unlike older styles of plastic pipe. While it hasn't been around as long as other piping styles, it is gaining momentum.
Other advantages of ProPress, MegaPress and Nupi Niron:
Do not need fire watch

Fits in to older legacy sites

Easier to install in older buildings where constraints don't allow for welding and/or room to install other methods
Victaulic: Victaulic piping is an older method, but it has been gaining momentum over the last 10 years. It is used mostly for hydronic systems. It's a tried-and-true method that's been around for a long time. Some advantages include:
Easier to fit in certain older sites

Does not require welding

Does not need fire watch
PVC/CVPC: Here is another tried-and-true plastic method that is used for drains and condensate. It's a super simple method with advantages for condensing boiler condensate drains.
Stainless: Stainless piping is a versatile method and good for any corrosive piping.
Soldered Copper: This is an older method of piping but still has its advantages. While soldered pipes last a long time, this process is waning in favor of newer methods.
Wilkinson technicians are experienced in all methods of piping and we have the tools necessary for any job. Contact our Installation experts at 800.777.1629 or learn more about our solutions here: https://www.gtwilkinson.com/solutions