---

Boiler industry professionals know there are two primary sources of fuel in the commercial market: natural gas and oil. Over the last decade there has been a large increase in natural gas conversions around the country due to the drop in natural gas costs because of fracking and greater distribution. For the last few years, the price of natural gas was significantly lower than its counterpart, but the cost of oil has become more and more competitive with natural gas. This has resulted in organizations questioning the benefits of converting to the use of natural gas only.
---
The biggest concern with a natural gas conversion is determining if the project will be cost effective. There can be heavy capital cost for the conversion but the benefits can be great. The most general and recognized characteristic of natural gas is that it is the cleanest fossil fuel and is one of the most efficient forms of energy available. However, oil provides greater calorific BTU content if measured side by side.
When making the decision, it's important to consider the pros and cons of both natural gas and oil.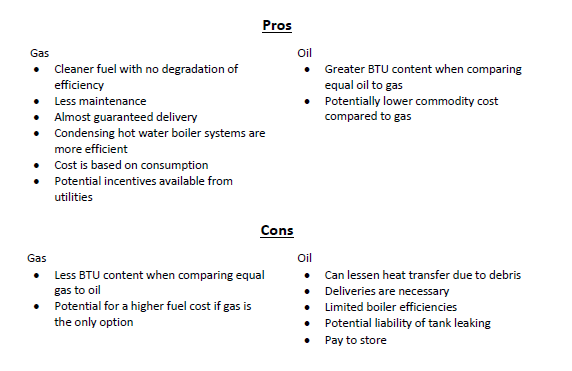 ---
While there is no easy way to select the commodity that is best for your facility, there is another option. A dual fuel system offers the best of both worlds, although it is limited on efficiency. To discuss the possibilities and decide whether gas or oil is best for your facility, contact The Wilkinson Companies.
The Wilkinson Companies
405 VFW Drive | Rockland, MA 02370
Toll Free: 800.777.1629
Fax: 781.335.9162
www.gtwilkinson.com
The Heat Exchange Blog Facebook Instagram Twitter LinkedIn

---