---
In 2016, Autoflame launched the Mk8 MM Controller. The Mk8 is a Micro-Modulating system that offers comprehensive control over industrial and commercial boiler/burners.
The MM line of controllers are designed to manage basic burner operation (flame safeguard, sequencing, valve proving, etc.) and advanced controls (TDS/blowdown, draft control and more).
---
Here are 4 important features of the Mk8 Controller:
You can manage virtually all boiler processes from a single 12.1" multi-touch screen interface without any added modules.

It is ideal for steam and water boilers (watertube or firetube), kilns and steam generators. The Mk8 is designed for oil, natural gas or both fuels.

The linkageless servomotor system and automated flame safeguard create conditions for unmanned boiler house.

Its Modbus connectivity allows for remote moni

toring and management.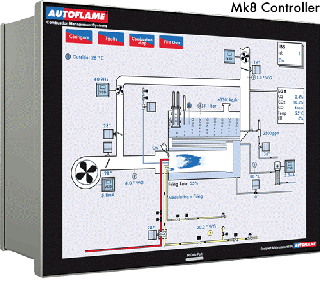 Steve Kemp, Director, Autoflame Engineering Ltd., provides detailed information about the Mk8: "The Mk8 MM maintains all of the core features that Autoflame has developed and perfected over the years such as flame safeguard, valve proving system, intelligent boiler sequencing, water level management, first out annunciation, modulating total dissolved solids, automated bottom blowdown and the precise burner management system that the company was built upon.
The first most noticeable difference is the jet black surround, which now houses a new 12.1" multi-touch screen. Then comes the digital diagnostics system which is constantly monitoring the frequencies, temperatures, voltages and currents of various ancillaries linked in to the controller, making troubleshooting a thing of the past. The big game changer for Autoflame lies within the all new fully metered, cross-limited control. Using fuel and air metering devices, the Mk8 MM can precisely commission a burner using the calculated mass/volume of fuel and air, all via the new touch screen interface. For process sites where combustion can't be set in the traditional 'analyzer in flue' method, this offers a much cheaper alternative to a PLC system and has already generated a huge amount of interest from the US and UK. Along with this, the new Mk8 MM comes with Direct Modbus connectivity helping to seamlessly integrate within your existing set-up, giving access for remote monitoring and management."
"Overall this product is an upgrade. It is user-friendly and the graphics and display page are definitely improved. Autoflame has taken all the best parts of previous products and put them in the Mk8. It has water level controls and draft controls, and the new technology is all standard now. These are all unlockable features that are already built in to the product." Jay Higgins, Wilkinson Senior Service Technician
There are no add-ons with the Mk8. Instead, it features simple code activation for each function, along with IR download software to keep data backed up on PCs, phones or tablets.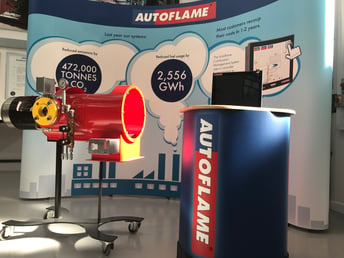 Autoflame burner controls enable users to achieve significant fuel and emission savings over conventional systems. Typically, fuel savings of 8-12% are seen where replacing linkage control systems, with some users reporting even greater savings.
"A lot of our new clientele, whom we have introduced to Autoflame over the last year, have been pleasantly surprised in the level of detail and quality of manufacturing, along with all the features that go into the Mk8 MM." Jack Arnold, Technical Sales Engineer, Autoflame
---
For a demo on Mk8's full capabilities (including Water Level Management, TDS/Top blowdown, Bottom Blowdown, Direct Modbus Connectivity and Fully Metered, Cross-limited Control) click here.
George T. Wilkinson is the exclusive representative of the Autoflame Combustion Management System for MA, RI and CT.
---