The Wilkinson Companies was given the opportunity to complete a very exciting project for Polar Beverages, located in Worcester, MA. Founded in 1882, Polar Beverages Incorporated is the largest independent bottling company in the United States. Under continuous ownership and operation by four generations of the Crowley family, Polar Beverages' brands include Polar Seltzer, Adirondack, Clear & Sparkling, O Water and Frannie's. The company produces and distributes from three locations: Worcester, Massachusetts; Albany, New York; and Fitzgerald, Georgia. They were also very instrumental in moving Boston Red Sox Triple A affiliate Pawtucket Red Sox to the brand-new Polar Park, opening in Worcester in 2021.
Wilkinson's relationship with Polar Beverages began in 2015 when Al Bishop, Vice President of Sales, visited the facility to see if there were any energy saving measures that we could potentially assist with. After numerous meetings, it was determined that the facility's existing burner didn't have enough turndown and was exponentially larger for the processes demand. This made the system extremely inefficient and caused the burner to cycle numerous times an hour.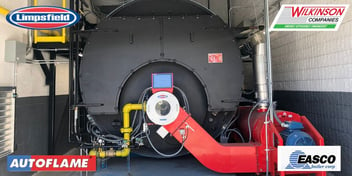 The solution was to upgrade the boiler with a new burner. Wilkinson installation technicians installed a new energy efficient Limpsfield burner. This burner was smaller with approximately 25% less btu input on their existing Hurst 4 pass 200hp firetube boiler. The new burner was able to improve turndown thus mitigating cycling issues. The upgrade allowed Polar Beverages to receive an energy savings incentive from Eversource. "That burner is so reliable, I feel like I don't even need to go into that boiler room anymore." - Ken Wall, Director of Facilities, Polar Beverages
Last fall, Wilkinson received another call from Mr. Wall. Polar Beverages was looking to put a new process line in place and needed a boiler to produce steam for the new line. Al Bishop met with Mr. Wall and sized a new 500hp low pressure steam Easco boiler with a Limpsfield burner. The gas fired burner included low NOx (30ppm), high turndown (8:1) and 3% or less O2 throughout the firing range while ensuring 0 CO.
"Polar Beverages really wanted another Limpsfield burner for their new project. They came back to us because the first job was a success." Al Bishop, Vice President of Sales, The Wilkinson Companies
Thank you to Polar Beverages for your loyalty and trust, from all of us here at The Wilkinson Companies.
The Wilkinson Companies | GTWilkinson.com | Since 1951