We are excited to share a new interview in our Expert Interview Series.
Thank you to Jason Howard, Director of Sales and Marketing at Power Flame, Inc., located in Parson, KS. Power Flame is an industry leader in providing high quality burners throughout the globe.
GTW, Inc. became a representative for Power Flame back in 2007 and they quickly became one of our most trusted vendor partners. For fiscal year 2022, we were awarded the 8th place Sales Achievement Award. Our territory covers Eastern MA, New Hampshire and Maine. Thank you very much to Jason for taking the time to participate.
- Geoff Wilkinson, Jr., President, The Wilkinson Companies
We are involved in a very unique industry. How did you get started?
I started at Aldrich Boiler Company in 1995 and Power Flame happened to be our burner of choice. At the time, I never dreamed that one day I would be in my current role. After working there for 17 years, I worked for Industrial Combustion / Cleaver Brooks for a few years before joining Power Flame for the last 6 years.

What is the most rewarding aspect of working with boiler/burner packages?
I am proud to be part of a great team at Power Flame where we continue pushing the envelope in regards to improvements in burner efficiency, emissions and alternative fuels. We have a UL approved B20 burner and are presently working on B100, as well as testing with Hydrogen.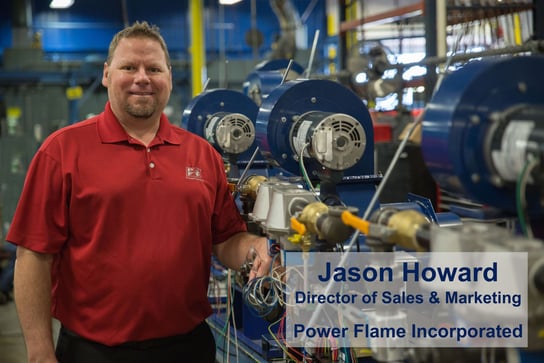 What does Power Flame do to ensure products are saving fuel as well as limiting emissions?
We have a dedicated R&D Department that is constantly working on designing the latest and greatest burners. I can't say too much, but we have some interesting projects in development that will ensure that Power Flame remains the leading US burner manufacturer for the commercial boiler market.
We also have an Aftermarket Parts team that works with our reps to retrofit any brand of older linkage style burners and convert them to a more fuel-efficient Parallel Positioning system as well as adding a VFD for electrical savings.

Where do you see our industry in the next 10 years?
I continue to see a trend towards alternate fuels and more fuel-efficient burner's with hydrogen and bio fuels becoming more common as a renewable resource. I don't necessarily agree with it but I see a push to electric until everyone figures out that the grid can't support the demand.

If you were to give advice to someone looking to make a career with boilers/burners, what would it be?
It's a great industry to have a career in and good service techs are certainly in high demand. I would recommend looking at our training schedule on our website where we offer 3-4 classes of hands on learning each month, starting with basic combustion.

What has made Power Flame an industry leader for such a great length of time?
The people are what make Power Flame along with our great rep network and OEM partners. We have also always been an industry leader in emissions reduction and lowering our customers carbon footprint. Our previous owners, Bill and Louisa Weiner, were instrumental in the growth of Power Flame along with a lot of other great people over the years, including my predecessor Bob Rizza. We honor these previous leaders with our top sales award named after Bill Weiner as well as a Bob Rizza sales award to deserving reps who have went above and beyond in year-over-year growth. The acquisition of PFI by Astec and their investment has only further strengthened our position as an industry leader.

What areas of the globe do you see the greatest potential of opportunities to reduce fuel consumption?
The best opportunity would be in NYC, based on the sheer volume of burners located within the 5 Burroughs. We have a UL approved B20 burner that will help reduce fossil fuel consumption in that area.

What do you do in your free time?
I enjoy spending time with my wife Tina and our sons Clayton (21) and Rhett (15). I'm looking forward to the day one of them beats me in golf but it hasn't happened yet.

What's the best golf score you've ever had in an 18-hole round? No mulligans!
I've been fortunate to shoot a few rounds in the 70's but they are unfortunately far and few between.