---
Spring is in the air and that means it's time to schedule an annual cleaning for your facility's fire tube or cast iron boiler. Keeping on top of maintenance each year ensures that your boiler is running properly and safely. When your boiler is running efficiently, it also means you are saving money and have less emissions.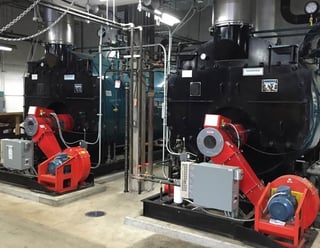 ---
Wilkinson Service Technicians follow the proper procedures to get your boiler running like new. On oil fired cast iron or fire tube boilers, we brush and vacuum the tubes to remove any soot. When there is build up between the sections or on the tubes, it lessens the ability for the boiler to exchange heat and therefore uses more energy. Gas fired cast iron or fire tube boilers generally only accumulate a "dusting" as a byproduct of combustion, however these boilers must also be cleaned and maintained. Gas fired condensing boilers require an annual overhaul as well. Just as all types of cars and trucks require tune ups and oil changes, we can help maintain all types of commercial boilers.
Oil burner maintenance includes:
Replacing the electrodes

Replacing the nozzle(s)

Cleaning the diffuser

Cleaning the scanner face

Cleaning out the oil pump filter

Replacing the main oil line filter

Testing oil pump suction
The electrode should also be replaced annually for gas burners.
Regardless of fuel, we also clean the water sides to remove any potential scale build up and/or sludge. There are a lot of impurities in water, thus scale and sludge can build up if the water is not properly treated or blown down. In addition, the accumulation of material on the exterior boiler tubes can lead to overheating and premature failure.
Throughout the maintenance appointment, our service technicians will examine all aspects of your boiler. Any issues will be dealt with quickly and capably. Once the cleaning is complete, we will test and tune your boiler. We will get you ready for the fall and ensure your boiler is running at peak efficiency.

---
An annual boiler overhaul can help you can avoid emergency shut downs. Wilkinson's maintenance programs mean less downtime for your facility, efficient operation of your boiler and cost reduction for your facility. Contact us to schedule your annual service today.
The Wilkinson Companies
405 VFW Drive | Rockland, MA 02370
Toll Free: 800.777.1629
www.gtwilkinson.com
The Heat Exchange Blog Facebook Twitter Instagram LinkedIn

---