Get to know Steve King.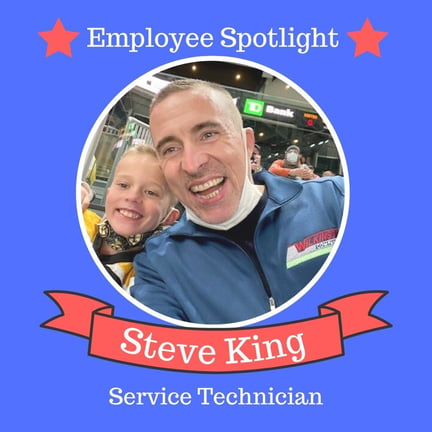 What is your position? I have been a Service Technician in this business for 20+ years.
How long have you been with the company? 8 years ago I started with Wilkinson in the middle of a February blizzard. My start was delayed because my service van was covered in 3 feet of snow and ice.
What do you like about working at Wilkinson? My favorite part of the job is helping people in need. No one likes to go without heat or hot water and customers are always so appreciative when you get their system back online.
What's been your most memorable experience at Wilkinson? My most memorable experience was the first time I helped set up a mobile boiler one evening in downtown Boston. A large high rise building had called in for a mobile late in the afternoon and that evening we had the mobile hooked up and the system back up and running. It's was impressive how quick and efficient the process was.
What do you do in your free time? In my free time I enjoy coaching Youth Hockey, my two boys play on teams for Weymouth. I enjoy playing my fiddle when I can find the time and also visiting beaches on the South Shore with my wife and two boys.
What advice would you give to someone starting out in this field? Anyone starting out in the boiler service field, I would tell them to be patient. Not all calls are resolved within the first hour. You can't get frustrated if it doesn't come to you right away, you to have relax and have a clear mind.