Get to know Dave Roche.
What is your position? I am the General Manager of Wilkinson Mobile Boilers, Inc.
How long have you been with the company? I am coming up on 30 years with the company.
What do you like about working at Wilkinson? What I like most about working at Wilkinson is dealing with all of the associates. Everyone here is very helpful and knowledgeable. Everyone goes out of their way to help each other out. It is a true team atmosphere here.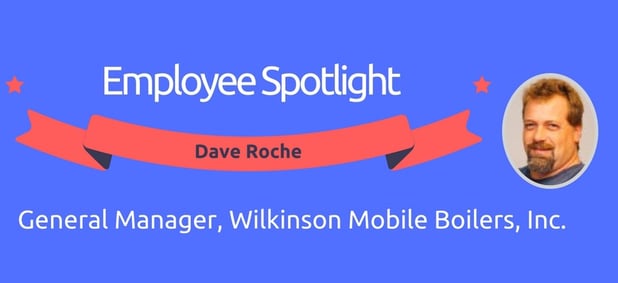 What has been your most memorable experience at Wilkinson? My most memorable experience was seeing my son get hired here 4 ½ years ago. I take a lot of pride in seeing my son work here. I am very happy that he works for a solid company and has the opportunity to have a great career for many years to come.
What do you do in your free time? I spend my free time with my wife and kids. We go out to dinner, movies, car racing or anything else going on. I really enjoy the time we spend in Maine on vacation or just for a weekend.
What advice would you give to someone starting out in this field? The best advice I could give to someone starting out in this field would be to pay attention to what you are being taught and to ask any and all questions that you may have.
Wilkinson has so many associates here with vast knowledge of this trade and they are more than willing to share this information. I started as an installation/service tech in 1987. I had hundreds of questions and asked them all. I got a straight answer each and every time. I learned something new every day and continue to do so.
In 1997, I was promoted to installation supervisor. I was then in charge of running the installation jobs. In 2014, I was put in charge of our mobile boiler division and was then in charge of overseeing our mobile boiler fleet. In early 2017, I became the first General Manager of Wilkinson Mobile Boilers, Inc.
I take great pride in my job here at The Wilkinson Companies. None of this would be possible if not for the great team of associates that I get to work with every day.