Get to know Brian McGraw.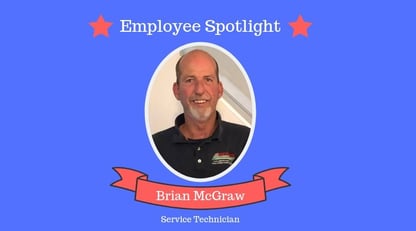 What is your position? I am a Service Technician with George T. Wilkinson, Inc.
How long have you been with the company? I am working on my 14th year at George T. Wilkinson. I started in December 2005, in the dead of winter.
What do you like about working at Wilkinson? I like working on equipment that is state of the art and cutting edge. A lot of the equipment that we work on these days is at the edge of the combustion technology scale. The company is always willing to utilize this cutting edge technology that expands and reinforces the technician skills. The company is always very supportive of the employees and pushes for employees to expand their knowledge base.
What's been your most memorable experience at Wilkinson? These most interesting thing that I have done since I started is operating one of our mobile boilers while moving a large fuel barge that was recently built. The video of this is on our web site.
What do you do in your free time? I enjoy spending time with my family. Now that the boys are all grown, the time spent with them is very special. I also enjoy playing golf, badly.
What advice would you give to someone starting out in this field? If you are self-motivated and willing to learn you can go to great heights and achieve as much success as you want. Ask lots of questions of the more seasoned technicians and listen to what they have to say. They are a wealth of knowledge that cannot be learned from any books. Push yourself to obtain any professional licensing and certification that is offered to you. Learn to be patient and take in all of your surroundings. If you push yourself, you will find that a career in the commercial heating industry is very rewarding in many different ways, financially and the satisfying feeling of being able to repair a complicated piece of equipment.