---
Get to know Billy Ward.
---
How long have you been with the company? Since January 15, 2015. Formerly, I was the Vice President of Acme Boiler Rentals and Atlas Boiler Works, which were acquired by Wilkinson. I graduated from Providence College in 1960, and started working in this business the next day. I had been in the Marine Corps and went to college on the GI bill. I had two kids and one on the way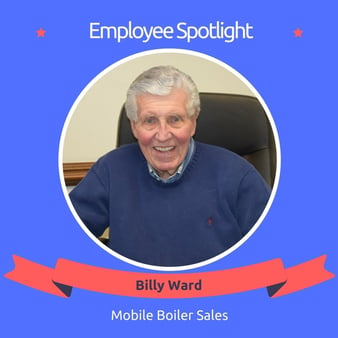 when I started in the business. Those were some of the best years of my life. When Wilkinson took over, I was just recovering from a stroke. The senior man of our company was getting ready to retire and I was a shareholder in the business. Geoff Jr. came to see me and I took a liking to him right off the bat. He reminded me of my son. He's a hard worker and his father is a nice guy, too. I showed him everything we did at Acme and at the time it was left to me to sell everything. I asked Geoff if he was interested in the business and he was. I had 20-25 boilers. They offered me a job to come along and work for Wilkinson, which made sense because I knew a lot of people.
What do you like about working at Wilkinson? Everyone is so friendly.
What is your most memorable experience at Wilkinson? Moving those barges at Senesco Marine from land to water. I always got a kick out of doing that. The barges are so massive and to see them going down to the water with just steam pressure pushing them is amazing.
What do you do in your free time? My wife and I own a horse farm. My daughters and granddaughters were competitive riders and we still have three horses. The farm keeps me busy, and I'm already thinking about all the jobs around the farm I have to do this summer. I've been married to my wife Gail for 60 years.
What advice would you give to someone starting out in this field? Learn everything you can about this business. Make friends and get along with people. I always made friends; I like people. I was in a tough business, but I have friends around the world. Don't look back on what you could have or should have done. Just work hard.
---
---